The Eclipse is Savaria's best-selling home elevator, and a cost-effective choice. The durable geared chain drive with unique modular design installs quickly, provides a stable ride that can be offered with a machine room less option. An environmentally-friendly counterweight system reduces motor effort – providing an energy efficient elevating solution.
Space saving with minimal overhead required and can be installed within the shaft
Energy efficient counterweight system reduces motor effort and eliminates the need to have hydraulic fluid in the home
Choose from different cab styles and customise your cab interior with a wide selection of finishes, fixtures and doors options to suit your home and design needs
Openings can be configured for same-side, straight-through or 90 degree entry and exit, depending on the layout of your home
Up to 6 stops; 430 kg capacity
The Zenith home elevator comes with the same great looks but an even smoother ride!
Machine roomless: Compact controller does not require separate machine room and can be installed unobtrusively in a nearby area.
Traction drive system: With geared roller chain provides a smooth and quiet ride.
Low overhead requirement: Takes up less space above cab with only 2438 mm ceiling height (overhead) required.
Other standard features: Fully automatic operation, automatic cab on/off interior lighting, digital display in car operating panel, surface-mounted telephone, oxford white ceiling with 4 LED pot lights, control panel with keyed on/off switch, digital display, stop button, emergency alarm button and push button for each landing.
Standard landing doors: White aluminium hinged (swing) flush door with frosted or clear glass inserts and integrated hall call buttons. Safety light screen incorporated with cab.
Standard finishes: Choice of 12 melamine panels or unfinished MDF, stainless steel car operating panel, handrail and hall call stations (where applicable), double plywood floor, oxford white ceiling.
Safety features: Battery operated (UPS) emergency lowering and lighting, overspeed governor, lockable control panel, elevator door interlocks, emergency stop switch, in-use indicator lights on hall stations, light screen on cab, slack chain brake system.

Fixture options: brushed brass, blackened stainless steel or architectural white powder coat paint.
Stainless accent cab options: Includes 2 cabin walls with accent floor-to-ceiling stainless steel panels with integrated car operating panel and stainless steel handrail. Choose from standard melamine panels.
Swing door options: Swing flush aluminium door in choice of frame colours (black, silver or custom colour), with frosted or clear glass inserts. Swing doors incorporate hall call buttons.
Savaria Auto Slim doors: 3 panel automatic sliding doors available for cabin and landings in stainless steel, powder coat paint (black, white, or custom colours), or framed glass, Hall call plates: brushed brass, blackened stainless steel, or architectural white, keyed, rectangular, or oval design with optional position indicator.
Other options: Up to 6 stops, keypad telephone in COP, telephone cabinet, alpha-numeric button marking, two-exit opening, buffer springs.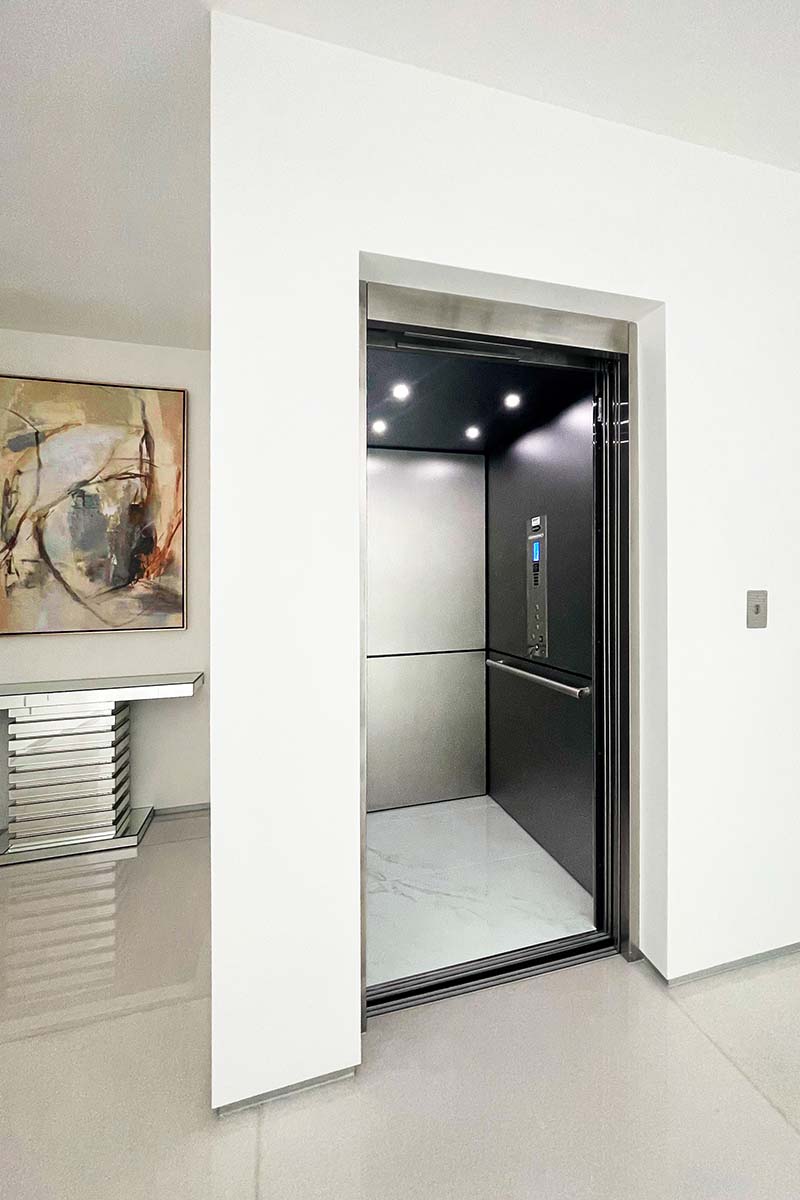 Technical specifications
MODEL

CAB FLOOR AREA

EXTERIOR DIMENSIONS

LOAD

SPEED

Eclipse Enclosed
914 mm x 1219 mm x 2032 mm
914 mm x 1371 mm x 2032 mm
914 mm x 1524 mm x 2032 mm
1067 mm x 1371 mm x 2032 mm
Configurations: Type 1, 2, 3, 4, 5
Custom cab sizes also available
Optional height: 2133 mm, 2438 mm
2032 mm (Standard Cab Height)
341-454 kg
0.2 m/s
TRAVEL HEIGHT
15.24 m (Max)
18.29 m with variance
INSTALLATION
152 mm pit depth
POWER SUPPLY
240 volt, single phase, 20 Amps "D" curve breaker – 50hz
DRIVE SYSTEM
Automatic 2 HP-geared roller chain variable frequency drive
TECHNICAL COMPLIANCE
ASME A17.1 / CSA-B44
OPERATION
one touch operation
USE
residential / commercial
indoor / outdoor
Documents
Please note, product details for Asia may vary. Please consult our sales offices for complete specifications.
Demand the best in accessibility