The Multilift vertical platform lift can be customised with a variety of options to meet your shorter travel accessibility needs. Apart from an unenclosed version, the Multilift also offers an enclosed and a Mobile or 3G version. The Multilift uses constant pressure operation with controls onboard the lift as well as at each landing. It utilises a self-supporting base and tower structure which houses the mechanical components keeping them protected and simplifying the installation.
Durable wheelchair lift for commercial or residential access, available in multiple entry/exit configurations and platform sizes
Reliable, easily installed ACME screw drive lift carries a wheelchair and passenger between 2 stops, up to 1.82 m (for more stops and higher travel, see V-1504 VPL)
Nominal speed of 0.04 m/s
Gate available with aluminium, acrylic or glass inserts, and with automatic opener
Drive system housed in tower, so no machine room required; 340 kg capacity
Available as indoor or outdoor unit, enclosed and mobile

Mobile unit provides temporary accessibility; includes 2 manual platform gates and automatic access ramp
3G unit structure creates a partial enclosure that does not obstruct the surrounding view
Durable construction: Ideal for indoor use or outdoors; includes weather-resistant lock.
Reliable operation: From the ACME screw drive with its precision movement and strength for day-to-day use.
Easy to install: The self-enclosed drive tower makes the unit fast and easy to install.
Mobile unit: Can be moved to provide access where needed. Includes 2 manual platform gates and automatic access ramp.
3G (three gate) unit: Ideal for a stage, courtroom or other public areas where you don't want the obstruction created by a full enclosure. The fixed side walls and landing gate create a partial enclosure for safety when the lift is being used – no one can get under the lift while in use.
Other standard features: Continuous pressure operation, keyed access on car, non-skid zinc-coated platform in three standard sizes, automatic access ramp.
Standard finish: Beige powder-coat paint.
Safety features: Emergency stop button on car, underpan obstruction sensors, non-skid platform, manual lowering crank, 1070 mm side panels, keyed cab buttons and keyed call stations, automatic access ramps, backup nut and backup nut safety switch.
Warranty: 36 months parts. Ask your Savaria representative for details.

Access ramp: 406 mm, 610 mm; 36″ and 42″ wide platforms optional
Other options: Low profile aluminium doors, steel ULC fire-rated ProDoor, wooden door, power gate and door operators; aluminium, acrylic or clear tempered laminated inserts for gate and aluminium door; WR-500 weather resistant lock; emergency light on car; fixed access ramp; commercial package (audible alarm on car, grab rail); telephone or ADA handsfree phone; joystick; 60 mm buttons; wired hand pendant. Keyless operation if desired.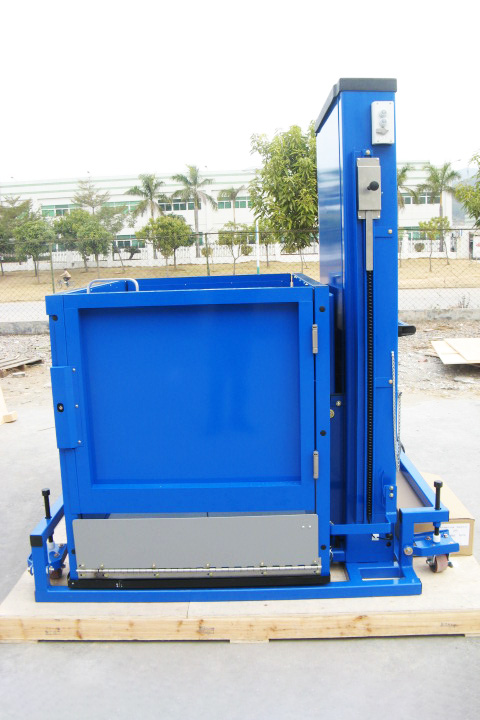 Technical specifications
MODEL

CAB FLOOR AREA

EXTERIOR DIMENSIONS

LOAD

SPEED

Multilift Mobile
914 mm x 1219 mm Type 2
1070 mm (Standard Wall Height)
340 kg
0.04 m/s
Multilift Enclosed
914 mm x 1219 mm Type 2, 3, 4
914 mm x 1372 mm Type 2, 3, 4
914 mm x 1524 mm Type 2, 3, 4
1070 mm (Standard Wall Height)
340 kg
0.04 m/s
Multilift Unenclosed
864 mm x 1219 mm Type 2, 3, 4
863 mm x 1371 mm Type 2, 3, 4
863 mm x 1524 mm Type 2, 3, 4
1070 mm (Standard Wall Height)
340 kg
0.04 m/s
TRAVEL HEIGHT
| | |
| --- | --- |
| Multilift Mobile | 1.22 m (Max) |
| Multilift Enclosed | 1.82 m (Max) |
| Multilift Unenclosed | 1.82 m (Max) |
INSTALLATION
76.2 mm pit depth
POWER SUPPLY
120 VAC, 15 A, 60 Hz, single phase (must be a dedicated electrical line)
DRIVE SYSTEM
Acme screw and back-up nut
TECHNICAL COMPLIANCE
ASME A18.1-2003
OPERATION
constant pressure
USE
residential / commercial
indoor / outdoor
Documents
Please note, product details for Asia may vary. Please consult our sales offices for complete specifications.
Demand the best in accessibility