The Savaria Telecab17 is built on the same platform as our popular V-1504 wheelchair platform lift. It features a robust and reliable hydraulic drive system enclosed in a tower eliminating the need for a separate machine room. The enclosed cab with acrylic panels provides an elevator feel to this lift.
Innovative "vanishing" through-the-floor accessibility lift
Capacity of 384 kg to accommodate heavier mobility equipment
Stylish modern cab available in two standard sizes with one door access; services two stops and up to 7 m of travel
Operates by continuous pressure buttons; sensors to stop the unit if it detects an obstruction in either direction
Installation does not require hoistway and therefore minimal construction
Saves space: no machine room required, and enclosed drive tower keeps mechanical components safe and out of sight
Innovative and space-saving design: "Vanishing" elevator, sleek modern styling with clear acrylic panels to blend with your home décor.
No hoistway or pit required: Fully enclosed drive tower designed for safety and aesthetics. Only a support wall and floor cut-out are required.
Standard finish options: Powder-coated aluminium frame (white) with clear acrylic window panels.
Other standard features: Constant pressure controls for operation with keyless or keyed access on car and call stations, cab top and bottom sensor stops the unit from moving when pressure is detected, left or right hand opening door; hydraulic door closer.
Safety features: Interior lighting, emergency stop and alarm buttons, battery lowering in case of power failure as well as manual emergency lowering, telephone, non-skid platform, sensors on the top and underpan to stop the unit if it detects an obstruction, pressure relief valve to prevent platform overload, door interlock, and slack chain safety device.

Optional battery backup power for up to 5 trips up and down in case of power failure.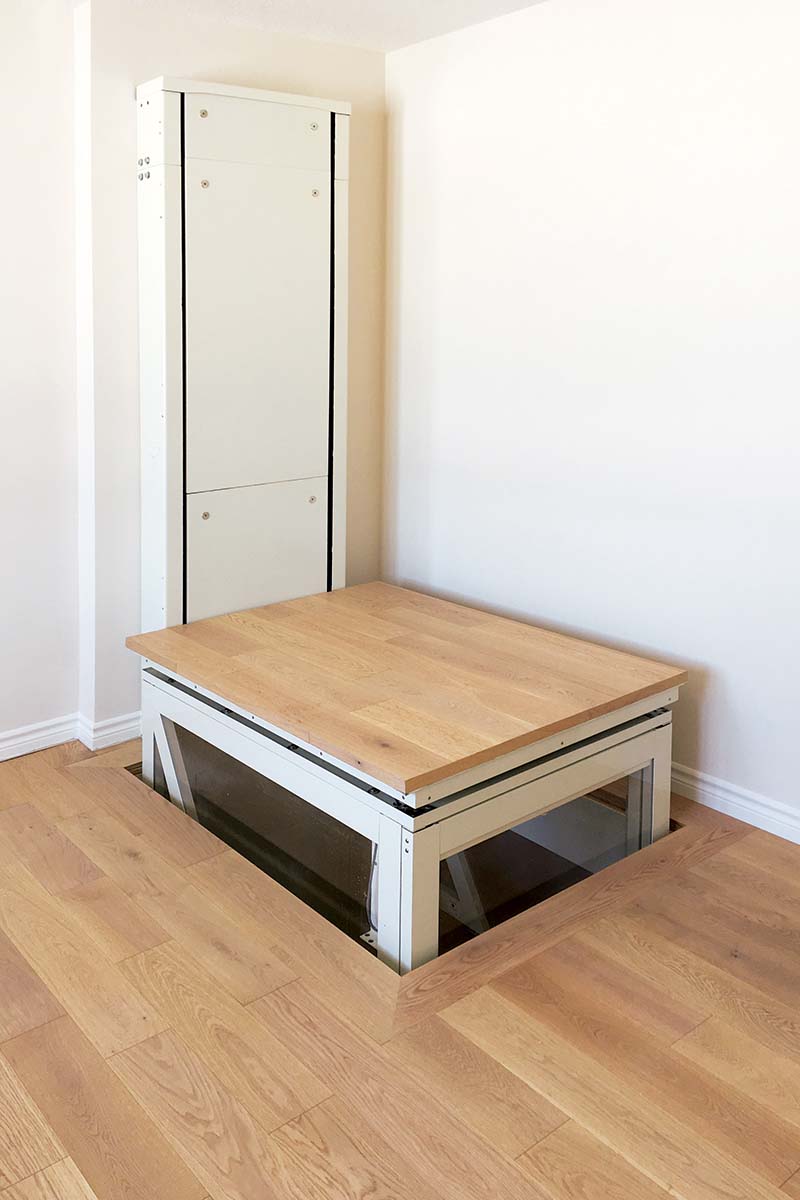 Technical specifications
MODEL

CAB FLOOR AREA

EXTERIOR DIMENSIONS

LOAD

SPEED

Telecab17
762 mm x 1168 mm
914 mm x 1372 mm
2032 mm (Standard Cab Height)
384 kg
0.1 m/s
INSTALLATION
N/A: Fully enclosed drive tower designed for safety and aesthetics
POWER SUPPLY
240 volt, 20 Amp, single phase, 50 Hz, gear type hydraulic pump
DRIVE SYSTEM
2:1 roller chain hydraulic
TECHNICAL COMPLIANCE
ASME A17.1 / CSA-B44
OPERATION
constant pressure
Documents
Please note, product details for Asia may vary. Please consult our sales offices for complete specifications.
Demand the best in accessibility