The Zenith is Savaria's top-of-the-line traditional home elevator. Based on our commercial-grade Orion MRL elevator, the robust Zenith features a unique roped geared traction counterweight design and offers up to 635 kg capacity.
Unique geared traction counterweight design requires only a small space in a closet for components, so a machine room is not needed
Multiple cab sizes available with capacity up to 635 kg, code permitting
Services up to 6 stops over a maximum travel distance of 15 m (up to 18m in some regions)
Openings can be configured for same-side, straight-through or 90º entry and exit, depending on the layout of your home
Customisable cab interior, fixtures and doors
The Eclipse home elevator comes with the same great looks but a geared chain drive!
Machine roomless: Space-saving and more installation flexibility and less construction needed.
Counterweight traction with slack cable safety device: Geared motor 1:1 sheave, three 9.525 mm diameter traction cables (ropes), rope wedge sockets.
Other standard features: 3.6 kg T-rail system, anti-creep device, cartop stop switch, automatic cab on/off interior lighting, digital display in car operating panel, surface-mount telephone, oxford white ceiling with 4 LED pot lights, melamine interior in choice of colours or MDF panels.
Standard landing doors: White aluminium hinged (swing) flush door with frosted or clear glass inserts and integrated hall call buttons. Safety light screen incorporated with cab.
Standard finishes: Choice of 12 melamine panels, stainless steel car operating panel and hall call stations, double plywood floor, oxford white ceiling.
Safety features: Battery operated (UPS) emergency lowering and lighting, powered emergency lowering, overspeed governor, lockable control panel, elevator door interlocks, emergency stop switch, in-use indicator light on hall stations, light screen on cab, slack cable brake system.
Warranty: 36-month manufacturer's parts warranty. Ask your Savaria representative for details.

Configurations: Type 1, 2, 3, 4 and 5
Cab sizes: 
W850 mm x L1200 mm Type 1, 2, 3, 4, 5
W900 mm x L1300 mm Type 1, 2, 3, 4, 5
W914 mm x L1219 mm Type 1, 2, 3, 4, 5
W914 mm x L1372 mm Type 1, 2, 3, 4, 5
W914 mm x L1524 mm Type 1, 2, 3, 4, 5
W1016 mm x L1372 mm Type 1, 2, 3, 4, 5
W1100 mm x L1400 mm Type 1, 2, 3, 4
Custom cab sizes also available
Cab height: 2032 mm for swing doors
Optional cab heights: 2133 mm for swing doors, 2438 mm for swing and slim doors.
Standard cab finish options: Choose from 12 standard melamine wall panels, or optional luxury MDF, or routed white MDRF. Fixture options: brushed brass, blackened stainless steel or architectural white powder coat paint.
Stainless accent cab options: Includes 2 cabin walls with accent floor-to-ceiling stainless steel panels with integrated car operating panel and stainless steel handrail. Choose from standard melamine panels.
Swing door options: Swing flush aluminium door in choice of frame colours (black, silver or custom colour), with frosted or clear glass inserts. Swing doors incorporate hall call buttons.
Savaria Auto Slim doors: 3 panel automatic sliding doors available for cabin and landings in stainless steel, powder coat paint (black, white, or custom colours), or framed glass, Hall call plates: brushed brass, blackened stainless steel, or architectural white, keyed, rectangular or oval design with optional position indicator.
Other options: Up to 6 stops, keypad telephone in car operating panel, telephone cabinet, alpha-numeric button marking, two-exit opening, buffer springs.

Applications: Residential, indoors
Standard capacity: 635 kg
Maximum travel distance: 12 m, 15 m where code permits, with up to 6 stops and 2 openings
Nominal speed: 0.25 m/s
Motor: Geared motor 1:1 sheave
Minimum pit: 254 mm
Minimum overhead clearance: 2743 mm
Power supply: 240 volt, single phase, 40 Amps, 50 Hz

Code compliance: AS1735.18

Please note, product details for Asia may vary. Please consult our sales offices for complete specifications.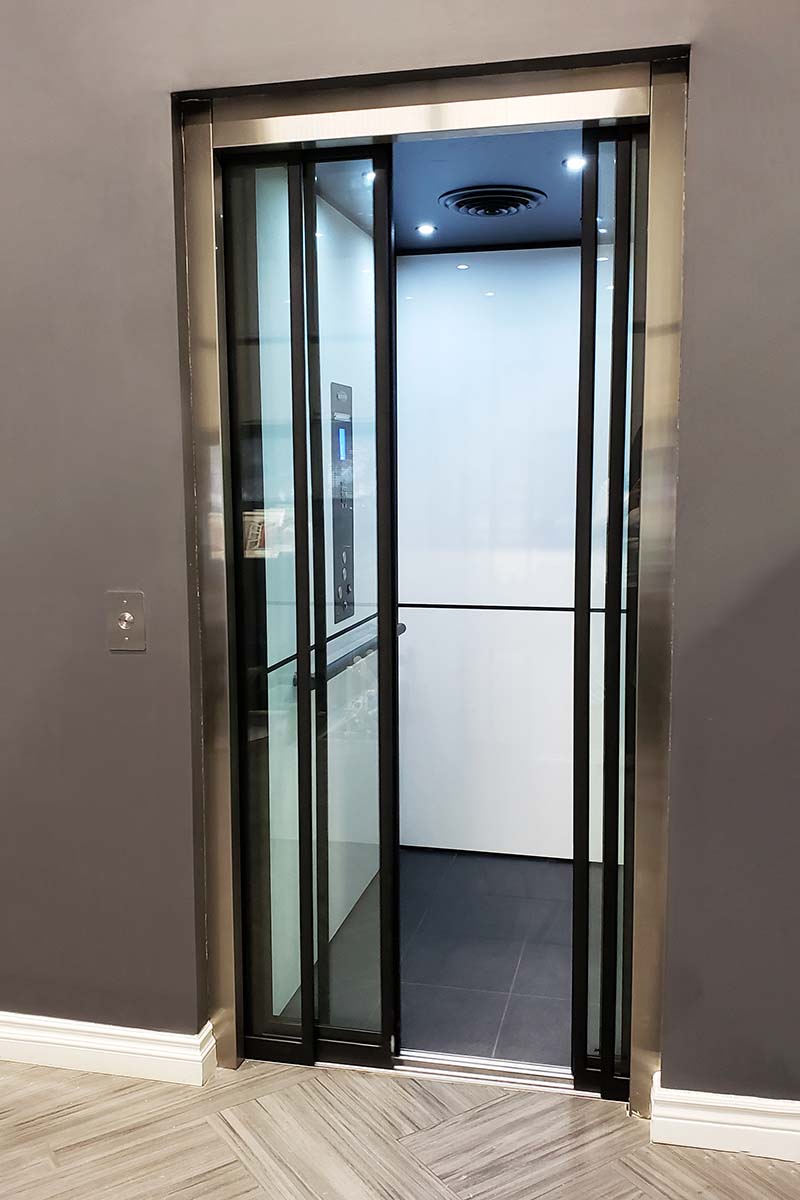 Demand the best in accessibility